I am interested in buying the Netro Sprite sprinkler. I read several reviews and they are all pretty good. I noticed that many state that the sprite is not able to water two zones at the same time. Is this something limited by project and wanted or do you think it could be upgraded with a software upgrade?
I wanted to ask you some questions about my garden layout. I attach a planimetry for convenience.
The garden consists of two pieces surrounded by railings with a central railing too. The one on the left side is about 70cm lower then the one on the right side.
The two big areas are covered with lawn. At the left side border there are 8 laurus nobilis plants (https://en.wikipedia.org/wiki/Laurus_nobilis) while at the right side border there are 8 Trachelospermum jasminoides plants (https://en.wikipedia.org/wiki/Trachelospermum_jasminoides).
Based on your experience how many zones would you create. At first I thought to go with three zones: one for both lawn plots, one for the laurus and another for the Trachelospermum. My doubt is I need to split the two lawn plots into two separate zones. How would the inability to operate different zones at the same time affect the watering and would the Sprite handle different times automatically or would I need to intervene manually?
My last question is about the Whisperer sensor, how many of them would you place in the garden?
Waiting forward to your suggestions,
Tony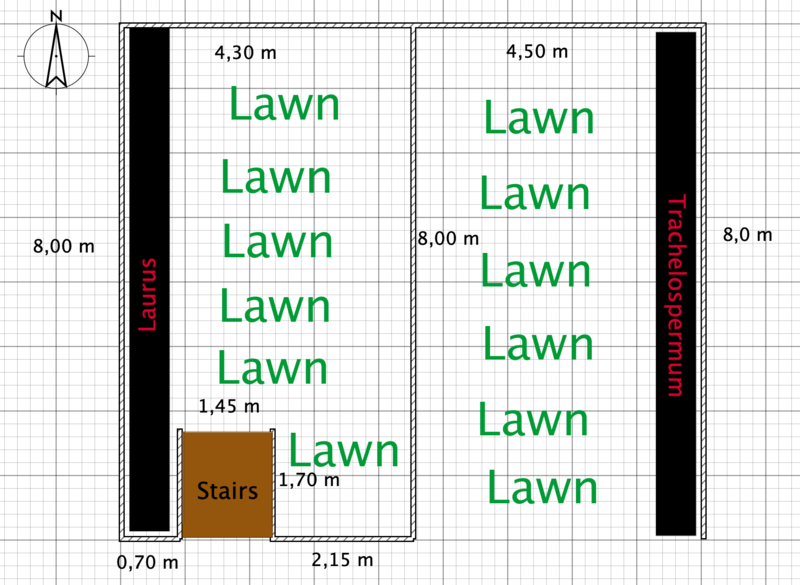 1 Answer &nbsp&nbsp
Click the answer to view the full answer and comments