To the Netro community:
We recently have launched an update for the Netro app on App Store. In the newest iOS version (2.3.0) of the app, Apple Watch is now supported.
In the watch app, users will be able to check the status of the device, the weather data, zone status and view watering schedules in the next 7 days.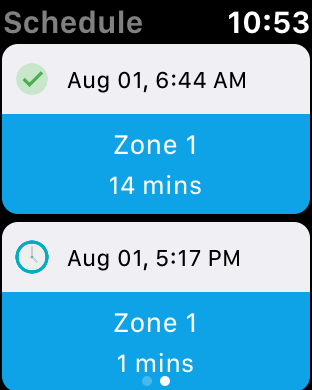 Please feel free to explore other new and exciting features that we just added (also available on Android) : 
1.Support Weather Underground PWS
(Settings->Controller->Weather Provider)
2.Rainfall adjustment
(Please go to the Discover page and tap the "+" button on the upper right corner,  select "Correct Rainfall")
3.Enable plant sensors to monitor multiple zones
( Settings->Sensors, select a sensor, go to Zones and select the zones you would like to monitor)

Regards,
Netro Support