I'm including a screen shot of the Netro app controlling a Sprite 12 in my home. The Sprite has very good wi-fi access. I understand from a support comment what the icons mean:
 The exclamation mark means the cloud server did not receive the confirmation from the device. There are two possible causes: 
1. the device is not powered up when it was supposed to be powered up to run that schedule. Therefore, the corresponding zone is not watered (what is why we use the exclamation to alert users) 
2. the schedule run fine but it was during a temporary network outage or exception so that the confirmation cannot be delivered to the server. Wireless connection can be unstable for a short peroid time so it is not uncommon to have a glitch in the communication. 
This is happening a lot (I'm getting more warnings than checkmarks) and I believe it's adding to the water usage. If this is a wireless connection issue (which I SERIOUSLY doubt) wouldn't the Sprite store the result and upload it the next time it has a cloud connection?  It seems that every time I get the schedule warning, the Smart Zone systems adds additional watering times to the schedule. There is nothing I can do to increase the wi-fi access at this location as it's already very close to the access point. Please let me know what can be done.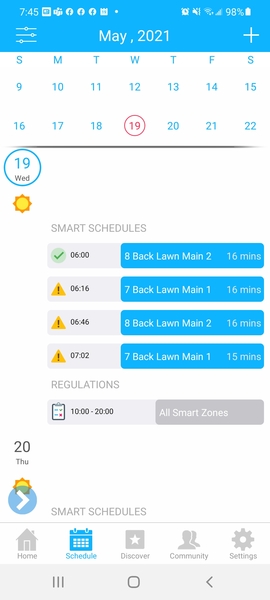 1 Answer &nbsp&nbsp
Click the answer to view the full answer and comments